It seems spring is right around the corner in wonderful northeast Ohio. Though, we've been known to get one last blast in March, and it's usually quite treacherous. So we'll see how that plays out. But either way, we're doing our best to keep things warm! We've been writing and rehearsing quite a bit lately! We're preparing for what's sure to be an amazing recording session in March. We're broadening our horizons some, and are musically branching out a bit. You'll just have to stay tuned for the outcome! We've got a lot of big things on tap for spring and summer, but we're still in the plotting/scheming stage. We'll release more info as it gels.
But until then, come hang out with us at
The Boom Room
! We're playing with an amazing band out of Indianapolis called
Reaul
. These guys have a very palatable, roots/americana rock mixed with indie pop sound. And they pull it off extremely well. They're currently touring all over the midwest as a benefit to VH1's
Save the Music Foundation
. The show starts at 10, and we hit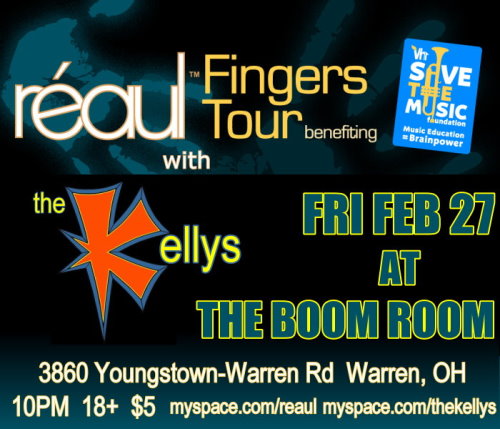 around 11 or so. See the flyer for more info. Come out to see an amazing show, at an amazing original music venue, right here in town. It's been a while since Warren has had a true music venue. One dedicated to enhancing the scene, and providing bands a killer location to play. Be sure to come check it out if you haven't yet. And if you have, well, we'll be there. Come kick it! :)
Next up, we're heading out on the road for a couple of shows in March, and are working on the rest of our schedule for spring as we speak. On March 13 we're playing at
The Hi Fi Concert Club
in Lakewood, OH. We'll update here with more info soon. On March 14 we're off to Covington, KY for a show with
The Black Mondays
(a wildly entertaining drag troupe) at
Leapin' Lizard Gallery
... a former church whose sanctuary has been
turned into a bar! Come spend a night full of debauchery in a formerly sacred house. There will be belly dancing, drag, booze and DJs! That should rustle a few cosmic feathers, eh? :) Peep the poster for more info!
So that's about it for now. As soon as we get the OK to leak some information, we will. Promise. But until then, keep showin' us love and support by coming out to the shows, buying some merch to support our quest for the musical grail, and SPREADING THE WORD!! Tell people about us and where they can check us out, bring them to shows, and hell, burn 'em a cd! :) We hope to see you all soon!
Love,
The Kellys